16Jun
Ascot shows sartorial elegance of bygone age: fashion archive, 16 June 1954 | Fashion
ASCOT, TUESDAY.
As everyone knows, our old nobility now live over the stables of the ancestral palace; no income, however gross, provides more than a middle-class standard of living; and company directors only maintain a plushy lunch-time existence with the help of expense allowances. Yet here at Ascot on this opening day one could easily believe that it was June, 1914, not June, 1954. Not a man in the Royal Enclosure but wore his grey topper and black or grey tail coat with an assurance which is lacking at royal garden parties and the other rare events for which the uniform is prescribed.
One suspected that few men here to-day had come in hired plumes, and every woman might have been a duchess. True there were none of those billowing extravagances of lace and tulle of former Ascots. Not a dress here would have been out of place at a smart Hampstead wedding. Hardly an outfit had cost more than seventy guineas; and some had cost under twenty. But this was the first day of Ascot and it was hard to believe after the week-end of rain that the day would be dry, warm, and brilliant, as it proved to be.
Moreover, women of fashion played the opening scene at Ascot quietly in the manner of the old actor-managers, so that when the high point of the drama is reached on Thursday their effort will seem truly to touch the heroic heights. To-day the women wore silk dresses and suits of simple classical line and small hats. The timorous wore dark silk coats over their dresses. Only thirty or forty women wore the traditional picture hat which softens the harsh lines of age but is a nuisance even in the kindly breeze. But at least the fashion writers cannot repeat their reproach of last year, when many women wore grey worsted suits as if they were out an a morning shopping expedition.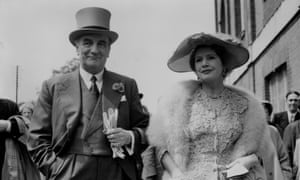 The Queen was in a new colour to-day: a silk dress of rose pink, a strong rose pink that held its own in the brilliant sunlight when she came to see her horse Rejoicing in the paddock and the rainbow jackets of the jockeys were a competing part of the picture. Princess Margaret was in a grey silk dress with a billowing skirt. The Queen Mother wore a softer pink, and she, like the Duchess of Kent, was among the gallant minority faithful to the picture hat.
The quietness of Ascot belongs to another age too. The amplifiers purr and the cries of the bookies do not reach the paddock. The rich vulgarity of Epsom is absent. You could bring a parson here – several brought themselves to-day in black silk hats – and he would find nothing, if he were broad-minded about gambling, to purse his lips at. Hardly a spiv to be seen; only on the outskirts a gipsy or two, baby in arms, soliciting my lords (all men in toppers are lords to gipsies) for a piece of silver.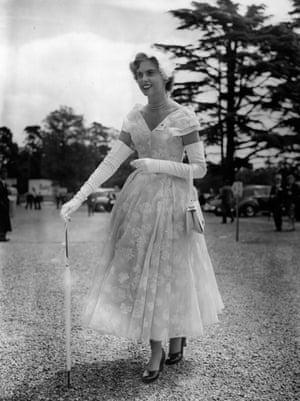 "Ordinary" People
Yet all was not elegance and fashion at Ascot. When the tide of toppers receded to the Royal Enclosure just before each race began, the paddock and the stands would seem to be full of quite ordinary people, some of them stout old ladies and their husbands who might have come on a charabanc trip from Blackpool. This day out will have cost them a "fiver," but they will have seen not only the races but the Queen and walked nearer to Princess Margaret than ever they could hope to do so elsewhere.
Some people might find it almost too pretty, this expanse of green lawn, these immaculate white rails, these unsullied pink bricks. Frith might have thrown his brush down in disgust at the sugariness of it all, at the formality, at the absence of incident. Perhaps the truth is that most of the people who come to Ascot are not racing types at all. They belong to a less bizarre section of London, the more affluent citizens whose wives treat it as the occasion to display their new summer finery. Ascot, in fact, for London society, or what is left of it, takes the place which the Whit Sunday parade through Lancashire parks has, or used to have. Perhaps that explains its Sabbath calm.
Source link