04Aug
Beauty roadtest: face scrubs for men | Fashion
By Weekend's All Ages model Ola Adeyemi, 24

I've been modelling for two years, and it has made me more conscious of looking after my skin. My mum and aunties encouraged me to take care from a young age, advocating natural products and showing me how to make scrubs, which I occasionally still do, from coconut oil, sugar and lemon. I use a face wash daily and occasionally a scrub, especially in the summer. I like to research the products I use. Some scrubs contain sodium laureth sulfate which can be a skin irritant, so I usually try to avoid it.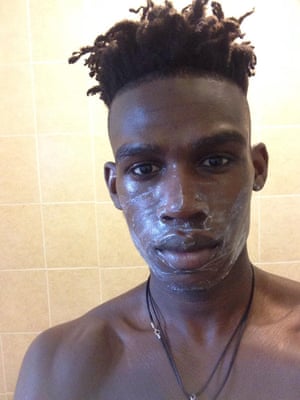 Body Shop Tea Tree Squeaky-Clean Scrub (£7.50) felt cool and smooth. My skin felt clean hours later. It smelled strongly of tea tree, which I quite like, but some people might find off-putting. It definitely offers value for money.
St Ives Invigorating Apricot Scrub (£4.19) smelled lovely. The "scrub" particles are noticeably larger than those in the other products I tested, but they're not painful. The price is great, too. It wouldn't be my first choice, but it definitely gives you good results.
I was impressed by the Lqd Face Scrub (£35), which is SLS-free, easy to rub in and feels very soft. I would definitely use it again.
My overall winner, though, is the SLS-free Kiehl's Pineapple Papaya Facial Scrub (£24), because it is very light – you can hardly feel the scrub bits – but my skin was still noticeably smoother. It's at the higher end of the price bracket but not the most expensive, and personally I think it's worth paying a bit more for the right ingredients.
Next week: Pam Lucas on facial oils
Source link