19Oct
Christian Lacroix, the heir to Yves St Laurent – fashion archive, 1987 | Fashion
The Observer
In August 1961, Yves Saint Laurent declared, 'Haute couture cannot be modernised.' It was a bold statement and a sign of the times, for at the dawn of the Sixties it seemed obvious that mass-produced, ready-to-wear fashion was the way forward in a new, young-spirited, democratic age. Haute couture had become an anachronism, the province of the rich, the stuffy and the middle-aged – and would never again hold sway over the world of fashion.
In the late Eighties, Christian Lacroix has overturned Saint Laurent's prophecy in a manner that has sent the international fashion coterie into an ecstasy of hyperbole. From the moment Lacroix took over designing the couture collection for the ailing house of Patou in 1981, his ostentatious, elaborate, vividly coloured and vastly expensive creations began to make waves.
Lacroix reinvented the trapeze line and the bubble skirts Saint Laurent had pioneered in the Fifties, but this was no mere re-run of the past. Lacroix's women were baby dolls in frou-frou petticoats, his silhouette a shoulderless cone, which made sitting down impossible. Giving full rein to the dying couture intricacies of beading, embroidery and all manner of fancy-work – and using the most extravagant of materials – he piled effect upon effect, with no heed to caution or good taste. Tales of mink dyed green and violet, of pompoms, quilting, patchwork, tassels and exuberant clashing prints drew increasing numbers of onlookers to the house of Patou, many biding their time to decide whether he was merely a vulgar clown, or truly a fledgling genius.
By January 1986, the matter was settled for them. The announcement that Lacroix had been backed by £50 million from Dior's parent Financière Agache, confirmed him as a force to be reckoned with. The deal meant not merely that Lacroix would have his own couture salon in which to produce hand-made dresses for private customers, but that a potentially highly lucrative ready-to-wear line would follow, as well as the opportunity for any number of money-spinning licensing deals in the way of perfume, sunglasses, shoes, handbags, and so on.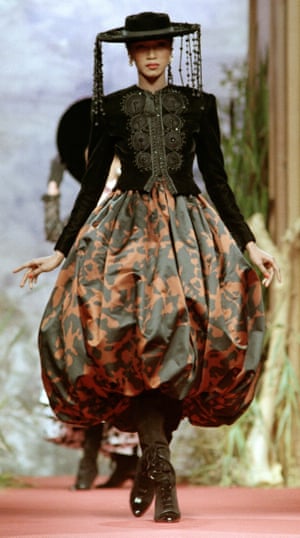 At the unveiling of his first own label collection last July, fashion editors, swept up in the maelstrom of publicity, stood on chairs to weep and throw flowers at the newly-crowned king (they did much the same last week). Had Parisian couturiers in their dark years ever dreamed of the coming of a saviour, these scenes would surely have surpassed their wildest fantasies. Lacroix, it seems, is the biggest news in Paris fashion since the emergence of Yves Saint Laurent himself, some 30 years ago.
Lacroix is now a French national hero, and very much an international property. Until yesterday every high fashion retailer in London was claiming to be in discussion with the house of Lacroix for exclusive rights to sell his ready-to-wear line, which will become available in March. Sidney and Joan Burstein of Browns of South Molton Street, Roberto Devorik of Regine, Peder Bertelsen of Aguecheek, and Claire Stubbs of Harrods were locked in fierce competition to win the contract that will confer the ultimate prestige upon their shops.
The man at the centre of all this attention is, in many ways, a surprise. At 37, Christian Lacroix is not naturally a distinguished figure, but he is certainly a distinctive one in his Ralph Lauren suits, bright shirts, loud ties and dandyish pocket handkerchiefs. All who meet him agree: he is hugely polite and considerate, keen to listen and well informed. After interviews, he is in the habit of sending round charming, hand-written thank-you notes on recycled paper. Everyone loves him: his wife and muse, Françoise Rosenthiel, his PR man and friend, Jean-Jacques Picart, the skilled workers who moved with him from Patou. Even the models are said to adore him, lending their professional smiles an extra brilliance as they ply his catwalk.
Lacroix is the son of an engineer from Arles. Family legend has it that, when his grandfather asked him, aged four, what he wanted to be when he grew up, he replied, 'Christian Dior.' Brought up in the Camargue, to which he is sentimentally attached, and to which he dedicated his first collection, he studied the history of art and costume at Montpelier University. He worked apprenticeships at Hermès and Guy Paulin, where he met Francoise and Picart in 1978, before signing up with Patou. They are a jokey and intimate team, sharing ideas, inspiration and a keen interest in London's young fashion and furniture designers. Lacroix, it is said, prefers to mix with writers and artists rather than fashion people, and back home in Arles he is just plain Christian, who keeps up with his old friends as if nothing had happened.
Continue reading
How to access the Guardian and Observer digital archive
Source link