27Oct
Clouds, Batman and high heels: proof that Prince had the look | Fashion
"Cool," said Prince "is being able to hang with yourself." As the exhibition My Name Is Prince, opening at London's O2 on Friday, testifies, such self-love is easy if you're Prince. Just look at the outfits. From paisley suits to black-and-white crop tops and an endless supply of satin shirts, the looks displayed here were almost as varied and category-defying as the sounds. Here are the items we would like to hang with.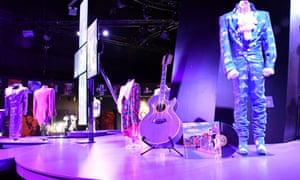 The cloud suit
Prince – who was around 5'2" (157cm) tall – found a look that worked for him and stuck with it. The ruched trousers with buttons down the calves and slightly cropped jacket is a silhouette repeated across the 20 outfits here, from a paisley suit to a taffeta number the shade of a Quality Street Purple One. The prize is the cloud suit. Worn in the video for Raspberry Beret in 1985, this is Prince in his rococo period at the best psychedelic party that you have never been to. Others wear Prince-like suits and frilled blouses. He has a full face of makeup, beauty spots and a feather cut. The suit spells out what we all know: he's so dreamy he is literally covered in clouds. That includes his feet. It was worn with matching boots.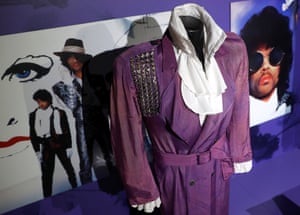 The Purple Rain trench
If there is any item that is forever associated with Prince, it's the purple trenchcoat, with studs on the left shoulder. Worn in a shiny version in 1983's Little Red Corvette video, and a matt one on the cover of Dirty Mind and in the film Purple Rain, both are included here and will no doubt be studied by any fashionable visitor. Trenches are in for AW17 and Prince is a bona fide trench icon. Side note: while it was recently revealed that Prince's actual favourite colour was orange, he chose purple for the regal connotations. "He told me he would call it Purple Rain because purple was the colour of royalty, and he thought of himself as musical majesty. And he was," said Purple Rain costume designer, Louis Wells.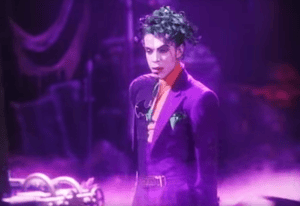 The Batdance look
By the time Prince did the soundtrack to Batman in 1989, high-production videos were standard for a man who was by now a blue – or should that be purple? Or orange? – chip superstar. This effort, for a song that became Prince's fourth No 1, features him as one of a number of dancers wearing purple, orange and green suits, with their faces half-Joker and half-Batman. This character was known as Gemini – a nod to Prince's own star sign. The suit featured here shows a change in silhouette. Moving away from the cropped jacket and frills, this is Prince doing power-dressing, also seen on the Sign o' the Times tour.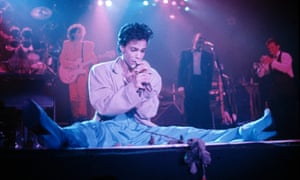 The heels
Prince wore high-heeled boots pretty consistently throughout his career, so there's loads of them here, most with a very respectable heel height of around 80mm. One cabinet displays 12 different pairs, all part of a tour wardrobe found at Paisley Park, his recording studio complex. Said heels might have been a signature, but they have been blamed for the hip problems that Prince suffered in later life. His guitarist, Dez Dickerson – also a heel wearer – was quoted as saying: "We'd even play basketball in high-heeled shoes." Prince was a talented basketball player, as anyone who has seen Charlie Murphy's True Hollywood Stories can testify.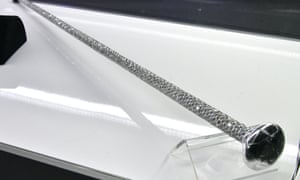 The crystal cane
Never the kind to mellow, Prince continued to boss fashion until the end. His latterday look featured gold sequin tunics, sunglasses with three lenses and a return to the afro he had as a teenager in Minneapolis. It added up to a kind of haute-70s woke look before "woke" became a proper term – Prince was, typically, ahead of the curve. He even styled out his need to use a cane: his was covered with crystals and came with his symbol stamped into the top. It gives Beau Brummell, another cane icon, serious shade.
Source link