16Jul
From Art School to sitting front row: this week's fashion trends | Fashion
[ad_1]
Going up
Art School The London duo who describe their label as a "non-binary paradise" in the making have a pop-up at Selfridges. Expect ball gowns for all.
Dogs in boots What Google image search was invented for.
Shirt, chunky belt and jeans The look from Netflix's El Chapo. A nice distraction from all the violence, too.
Rammstein German heavy metal band beloved of Demna Gvasalia, who recently wore one of their T-shirts backstage. Very Vetements. Obviously.
Haters The video for this TLC song throws serious shade at haters and meanies in the way you wish you could.
La Traviata The Sofia Coppola version: with clothes by couture king Valentino Garavani, this revival of the Verdi opera looks set to be the high/mid-brow event of the year.
Going down
Seashell hair New Brooklyn-touted shade. Oh, please. What name a rose. It's just pink hair.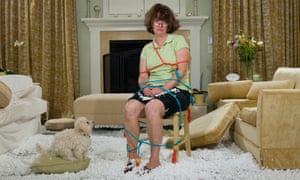 Babysitters See the Balenciaga menswear catwalk, where model dads walked with their kids. Fatherhood is now officially cool.
Head-to-toe dressing Instead, do Skype dressing: a strong lewk top half and not worrying about what lies beneath.
Yellow-lensed sunglasses Sound great, but IRL a 90s step too far.
Sitting front row Drake went one better for Louis Vuitton's spring/summer menswear show. He sent an original song in his place.
[ad_2]
Source link