13Sep
From Melania Trump to American nightmares – what caused a stir at New York fashion week? | Fashion
The most head-scratching moment of New York fashion week was not part of the official schedule. It happened more than 200 miles away from the catwalks, in fact, in Washington DC, when Melania Trump disembarked from Marine One on Sunday wearing a red Calvin Klein shirt with beige epaulettes and a sharply pointed collar.
This was a strange occurrence, for anyone who knows their fashion references, because Trump's shirt was recognisably part of Belgian designer Raf Simons's first collection for Calvin Klein. Simons is the sort of brainy, arty designer beloved by the "liberal elite" that the president professes to hate. His take on the US megabrand has mined the tropes of Americana – prairie quilts, cowboy boots, the star-spangled banner – in what has been interpreted by critics as an attempt to reclaim the American dream from the political right.
Trump probably wasn't trying to make a complex political statement when she wore the $695 (£524) top. She possibly chose it because its beige details coordinated with her big beige Hermès Birkin handbag, but that doesn't make her adoption of Simons's take on Americana feel any less meta. The pictures also underline the fact that – although the fashion industry is proudly run by liberals and immigrants – a designer's personal ideals may not be echoed by those who can actually afford to buy the merchandise.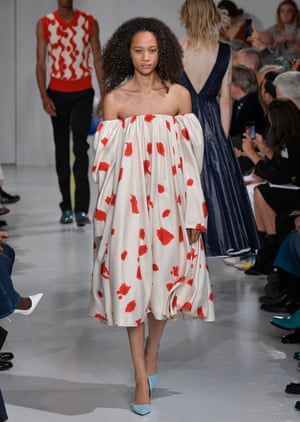 Simons's second Calvin Klein show, which opened New York fashion week on Thursday, was darker than his debut. It explored the American dream plus "American nightmares". Violent photographs from Andy Warhol's Death and Disaster series were printed on jeans and vests, while horror film references – blood-splattered dresses, shoes modelled after Jason's hockey mask in Friday the 13th – were the collection's centrepieces. This twisted take on patriotism was a trend at the shows, with Monse – a favourite label of Amal Clooney and Rihanna – presenting stars and stripes and sequinned baseball vests that had been shredded and nibbled. That show was presumably supposed to be cheerful – none other than Minnie Mouse sat in the front row – but all of that artful fraying at the seams felt pretty melancholy.
New York fashion week took place at a disastrous time for the US. Opening Ceremony staged a dance event directed by Spike Jonze and sold tickets to raise money for Hurricane Harvey, in a sad turn of events in which fundraising efforts were not able to keep up with natural disasters. Small talk between shows – usually of the "how was your summer?" variety – often touched on Donald Trump's lack of concern about global warming. But there was also a disconnect at play: not once did I hear the designers addressing the fashion industry's own, very considerable, role in damaging the environment.
Instead, designers chose to make socially conscious statements about ethnicity and gender. There was a pro-immigration collection from Public School, in which clothes were decorated with the slogan "Come Again" while designer Dao-Yi Chow wore a cap with a Daca Dreamers logo to protest against the threat of deportation young immigrants are facing now that Donald Trump has scrapped the program that protected them. At Prabal Gurung, there was talk about the "de-genderisation of colour", an idea manifest on the catwalk as bright-pink, mid-blue and bright-yellow chiffon dresses. On the front row sat Gloria Steinem, attending her first fashion show at the age of 83, one seat away from Hillary Clinton's right hand woman, Huma Abedin.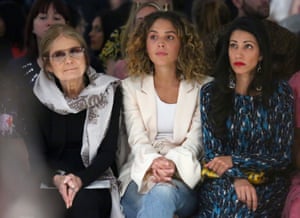 There was no room for introspection at Alexander Wang's show, however, where the modern Armenian-American institution that is the Kardashians helped generate buzz for a few sportswear and chainmail looks presented outdoors in the industrial depths of Bushwick. Afterwards, a newly silver-haired Kim Kardashian and her mother, Kris Jenner, were whisked away in a blacked-out SUV by a team of large, shaven-headed, suited men who had the air of secret-service operatives. The ensuing afterparty featured blaring rap music piped into a series of bouncy castles, millennials wearing headdresses saying "Wangover" and a centrepiece comprising hundreds of doughnuts piled high.
There were reasons to be cheerful. The casting of the shows felt more inclusive than ever, with a few plus-sized models and one very pregnant model on the catwalks, as well as women of diverse ethnicities and even – gasp – women in their mid-to-late 30s at shows such as Jeremy Scott's ebullient 20th-anniversary presentation. That might not seem like much but, for fashion, it is progress.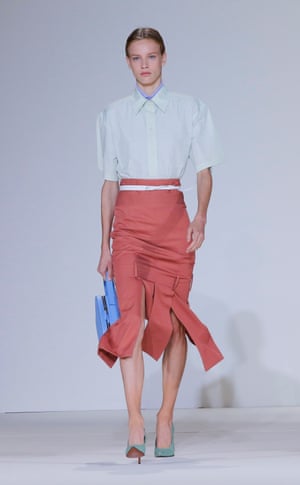 Female bosses proliferated. Victoria Beckham, for one, made a case for soft power with her collection of pastel colours punctuated with pretty, shiny, glittery shoes, designed, she said, to demonstrate "strength in delicacy". VB – as she is referred to in the industry – had launched a major makeup collection a few days before her show, as did fellow celebrity mogul, Rihanna. The latter's Fenty x Puma show also revelled in the power of glitter – the set was a series of pink sparkling sand dunes – and encompassed sporty hybrids such as high-heeled wedges with neon go-faster detailing, and stiletto flip flops.
The idea that powerful women can wear pastels and glitter if they want to – that, like men, they can cultivate whatever personal aesthetic they choose without being judged – chimed with the cheering moment broadcast in the midst of fashion week when, during the Miss America contest, Margana Wood, aka Miss Texas, described Charlottesville as "a terrorist attack". She was spotlit on stage at the time, wearing a sparkly white dress, her blond hair tonged and arranged over one shoulder. Beauty pageants aren't my thing; they're possibly not yours either. But as an illustration of the argument that you never know what female empowerment will look like, it was perfect.
The five trends you will actually wear from New York fashion week (plus one you probably won't)

'What, these old jeans?' jeans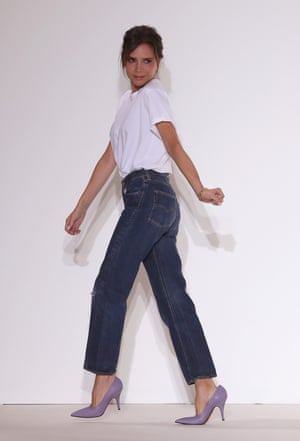 Dressing as though you don't have the bandwith to agonise over your outfit – while simultaneously looking brilliant – is a strong power move. Victoria Beckham nailed it in the run up to her show, wearing jeans and a plain white T-shirt of which she said: "I just haven't had time to think about what to wear." Others were at this on the frow, too, and they all wore a very specific style of jean: straight-legged and darkish, and ending an inch or two above the ankle.
The heritage blazer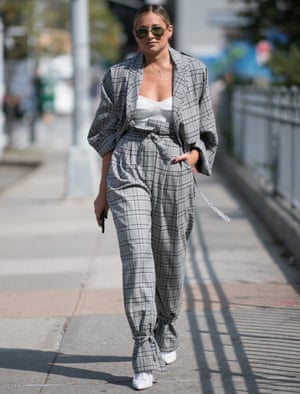 This was absolutely everywhere, worn with jeans, skirts or with trousers as part of a suit. The effect was slouchy and oversized, a slight smartening up, rather than the full hard-edged Working Girl look.
Yellow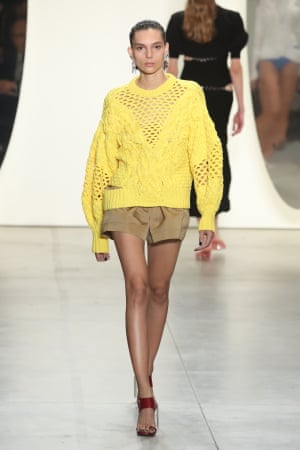 Is yellow the new pink? NYFW answered this, the question de nos jours, in the affirmative, with catwalks and front rows full of highlights. There was The Haute Pursuit blogger Vanessa Hong's pale maxi slip dress to the chunky yolk-coloured jumpers at Prabal Gurung and bright shots of daffodil and marigold elsewhere.
Cowboy boots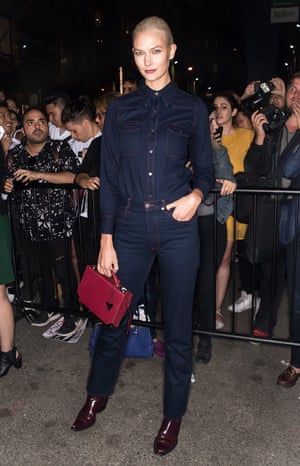 You may not have worn them since Destiny's Child were a four-piece, but Raf Simons put them on his catwalk for the second season this NYFW, while cool kids such as Millie Bobby Brown and Karlie Kloss are into them already. They will soon be yee-hawing their way to a high street near you.
A long, chunky jumper worn over a midi-length pleated skirt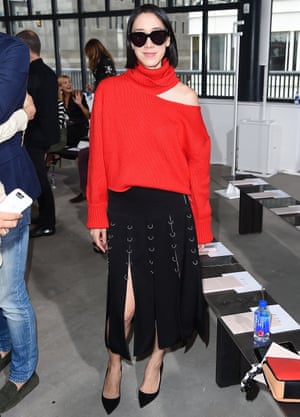 Not the kind of showy look that will guarantee Instagram influencers a starring role on street-style blogs, but this was the understated, chic silhouette that many show attendees were wearing. Ergo, a piece of real-life style inspiration.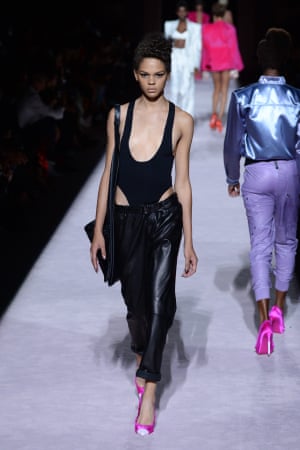 The French cut swimsuit
The award for most annoying catwalk micro-trend goes to the very high-cut swimsuits that were worn under low-slung trousers, shorts and skirts at labels including Tom Ford and Fenty x Puma. Sadly, it is now inevitable that bare hips will be the in thing by spring.
Source link