05Aug
From pottery to pre-queues: this week's fashion trends | Fashion
Going up
'On paper, he's my type' Catchphrase from Love Island, now a sold-out T-shirt at New Look. Relax – they're restocking.

Phoebe Philo for Juergen Teller The designer custom-makes Teller's trademark short shorts. If there's a more alpha fashion hook-up, we'd like to hear about it.
Mrs Waterford in The Handmaid's Tale I mean, could she be more Balenciaga AW Look 1?
Colman yellow As in mustard. The colour worn by influencers, appaz. We'd like ours in sweatshirt form.
Pizza Hut First we spotted Demna Gvasalia's nails decorated with the logos. Now it has answered dreams we didn't know we had with Hawaiian pizza lip balm.
Pottery Model Lindsey Wixson is retiring at 23 to become a potter. We'll be enjoying a Ghost moment soon.
Going down
Mismatched earrings We're into tasselled earrings, matching, à la Dolce, Mango and Zara.
San Pellegrino Antisocially fizzy (try talking and drinking). Give us Badoit Intensely Sparkling.
The 'Insta-sit' Half sitting, half squatting, à la Kylie Jenner. Quite, quite dismal as a thing.
Streetwear queues Now usurped by pre-queues – ie, queueing to get your spot in the queue. Obvs.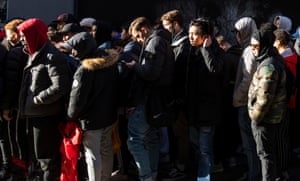 Losing your umbrella That would be really annoying if it were one of Raf Simons's neon-handled ones from his SS18 menswear show.
'Season' All the cool brands are calling their collections "chapters" or "issues".
Source link