13Apr
From winter to spring: how to moisturise your makeup routine | Fashion
[ad_1]
Your skin may well be suffering at the moment; the prolonged cold period has left my skin as dry as a desert – and dry skin is no fun. I am sure a lot of you can relate. However, the good news is that there are nourishing ways to get your skin back on track. Here are my tips for getting out of that dry, patchy phase.
Step one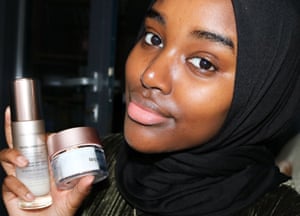 Before I apply a moisturising cream, I use a serum. My favourite is Bare Minerals Skinlongevity Vital Power serum (Bare Minerals, £48), which hydrates my skin and preps it for my facial cream. This serum has a light but moisturising texture, which quickly soaks into the skin and makes it feel more hydrated. I then immediately apply my facial cream to add extra moisture. I like to use NSPA Expert Daily-Rejuvenate cream SPF-30 (Asda, £10) as it has a creamy texture perfect for keeping it hydrated all day.
Step two
I then use a moisturising primer, which is cream-based rather than silicone-based to give my skin additional moisture. I use Huda Beauty Complexion Perfection Pre-makeup Base (Selfridges, £27), as it has a velvety smooth finish, which is perfect for filling in the pores and smoothing over imperfections before applying foundation, while keeping your skin super-hydrated.
Step three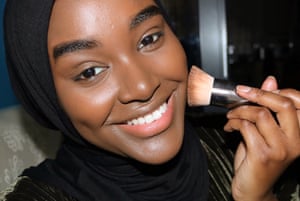 I begin my makeup with a serum-based foundation, which gives my skin a dewy finish. I use MDMflow Flawless Base Foundation (Indiegogo, £10; available to pre-order), in shade 802. This foundation has a light texture that gives a natural glow, while keeping your skin hydrated.
Step four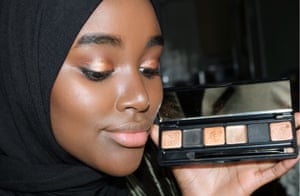 When it comes to the rest of my makeup, I use the most moisture-rich products I can find. For example, I opt for creamy eyeshadows such as the Sleek MakeUP Bronze I Lust palette (Boots, £7.49) and a waterproof mascara such as Benefit's BADgal BANG! (benefitcosmetics.com, £21.50) to achieve a long-lasting finish.
Step five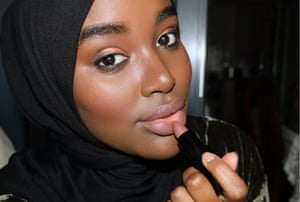 Lips tend to take the brunt of a shift in temperature, so it is important to keep them hydrated. Applying a satin lipstick is the best way to keep lips soft and moisturised. I use the Inglot LipSatin Lipstick (Inglot, £13), in shade 301, to add a little colour to my lips. I also use it as a blusher, using my fingers to blend on to my cheeks with patting motions.
Step six
I love finishing my hydrating look with the NYX Professional Makeup Dewy Finish Setting Spray (Boots, £7), which rehydrates the face and ensues your makeup lasts longer. A setting spray is a good replacement for powder as it also locks in makeup without drying your skin.
[ad_2]
Source link