14Jun
Genderless frocks and dirty trainers: seven trends from London men's fashion week | Fashion
Genderless gowns
Scholars of Sex and the City will remember the wedding gown worn by Carrie Bradshaw in the first movie: a frou-frou, corseted Vivienne Westwood creation with an enormous layered skirt and sharply pointed neckline. That silhouette was pure 00s glamour – and it was back on the Westwood catwalk this weekend, worn by male models with Smurf-coloured hair and safety pins painted on to their bare chests. Westwood was far from the only designer subverting traditional ideas about frocks. At Edward Crutchley, beefy male models wore flowing Renaissance-style gowns displaying painted silver nipples; at Charles Jeffrey Loverboy, the finale was an Elizabeth I-meets-Matisse moment; at Art School, a collective dedicated to gender-fluid fashion, models of all genders stalked the runway in fluttering false eyelashes and slinky skirts. It was, as the press release said, "a nonbinary paradise" on the catwalk.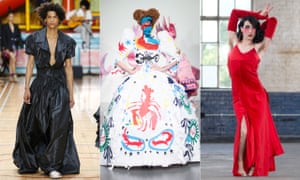 Slogans creep over everything
Slogans were everywhere, from Oliver Spencer's "Love Town" T-shirts to "Save Me" scrawled across a button-down shirt at Blood Brother; belts were decorated with the name of their creator at Martine Rose; Liam Hodges' pieces shifted between "Faster faster" and "Cannot be described". In the audience the proliferation of slogan shirts raised eyebrows as, for example, a guy in a "Language is not transparent" T-shirt would sit next to another, whose shirt read: "Shame tornado."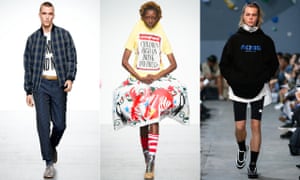 'Look at the state of your trainers' trainers
Popular academia tells us that shoes provide the most accurate first impression of their wearer. So what can we learn from the dominance of crap trainers on the catwalk? Following this season's Vetements-vandalised Reeboks, trainers were ugly (Cottweiler's Reeboks), uncool (Kiko Kostadinov's Asics) or sullied (street style, where muddy Hi-tecs paired with pinstripe suits were the dominant look). Clean shoes, it's thought, signify a conservative wearer. If you have dirty trainers, you're more of a liberal. Time to run through a field in your white Stan Smiths then.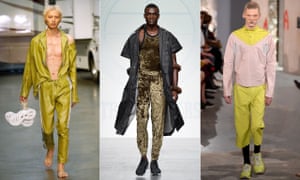 Post-millennial, unapologetic pink
Fashion has decreed that, come 2018, this will be a post-millennial-pink world. Huge relief all round. But this is not the end of pink, per se, especially not in menswear. Charles Jeffrey Loverboy opened his show with candy pink cardboard dancers. Joseph had a tempered-down shade in its suits. Oliver Spencer turned bombers and shoes a shade of salmon, and Liam Hodges rolled out Fila trainers in dirty pink. Any shade will do – rosé, Barbie and Percy Pigs are a good starting point – but pink isn't going anywhere. It's just grown up a little.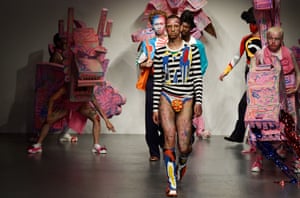 Bumbags + money belts = hands-free good times
The much-maligned manbag is back. It's also bigger. Liam Hodges opened his show with a souped-up version emblazened with the word "NOISE", but elsewhere they were used with discretion. Cottweiler's lizard money bags in pastel shades were slung low in a discreet, insouciant way, while Blood Brother's bright blue cross-body version looked like some sort of water carrier. Still, variety aside, the message was clear: let your hands do the talking. And keep your money safe.
Office worker redux
The corporate worker has been a firm menswear muse these past two seasons (thanks, Balenciaga) and the next season continues apace. Blood Brother sent out an invite on a floppy disc and presented off-kilter suits in a set strewn with cables, bins and defunct computers. A Cold Wall handed out office files to showgoers – the invite was da fax. Martine Rose said her muse was "tech dads" and sent models down the catwalk in off-kilter suits, while Xander Zhou went all-out American Psycho in cut-out suits with forensic scientist gloves carrying suit bags. The message was imbued in irony, a play on corporation mentality and a twist on suiting.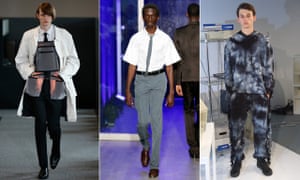 Wish you were here
The great outdoors headed inside this season thanks to Craig Green, whose models wore palm-frond prints, sou'westers and neoprene, and accessorised with ropes in a space that was both tropical and moody. Martine Rose invited showgoers to a climbing wall and put her models in anoraks, while Cottweiller models circled RVs in hiking gear and tracksuits, often barefoot. The mood was in stark contrast to the office space, and tapped into a newish trend: gorpcore. While the designs spoke of jolly practicality and hiking-wear chic, none of the pieces, we should add, were remotely suited to braving the elements.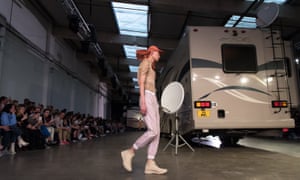 Source link