25Apr
Hair to the throne: Meghan's messy bun is perfect for a modern princess | Fashion
I am totally intrigued to see what Meghan Markle wears on her wedding day. Go ahead and roll your eyes all you want, you're not going to make me feel bad about that. I definitely care about the dress and I absolutely believe that what the first self-proclaimed feminist to join the firm wears at the moment she becomes a royal matters. I care about who the designer is, whether it has long sleeves, whether there is a second look for the evening. Sorry not sorry.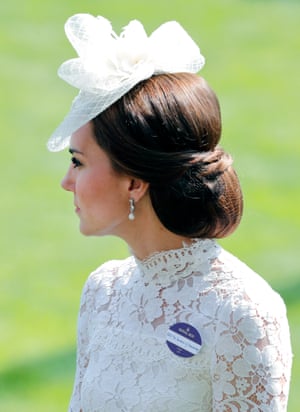 But the most significant aspect of the Meghan Markle look isn't a dress at all, but the way she fixes her hair up: a messy bun that has become her trademark look. In January, for the couple's first major public outing of this year, a visit to a Brixton radio station, the long grey coat she wore, by the Canadian label Smythe, immediately sold out. But the most compelling aspect of how she looked, the thing that lodged in my mind, was the way her hair was twisted into a casual bun, the kind you do yourself. As a veteran messy-bun wearer, I recognised that bun. It's the kind you do almost absent-mindedly, without looking in the mirror, with a few ends sticking out at the nape of the neck and some wispy bits from your middle parting tucked behind your ears.
The loose ends are what makes this style different from the chignon, worn often by the Duchess of Cambridge, which is bun-shaped but covered, invisibly, by a hairnet. Fellow bun-wearers will immediately recognise that while both techniques involve having your hair pinned at the nape of your neck, there is a world of difference between Kate's hairnetted chignon, which requires either a hairdresser or a complex two-mirror setup, and Meghan's DIY bun, which can be done in the back of a car. Although it was reported in January that the messiness of the bun broke royal protocol – Meghan's second transgression, after the bare-legs-no-nude-tights shocker of her engagement photos – the royal-in-waiting has continued to wear it regularly since. (For evening events such as the Queen's birthday this weekend, she tidies it up a bit.)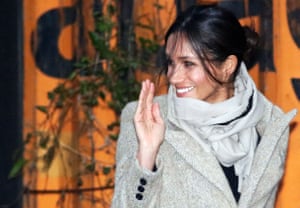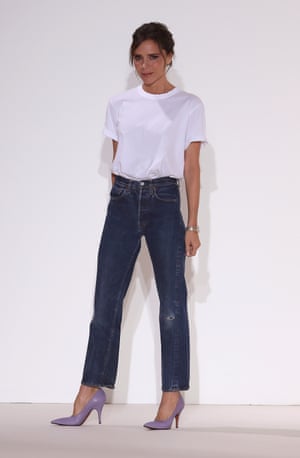 Meghan's bun is not in the joyless lineage of Miss Trunchbull and scary ballet teachers, but in that of the messy buns favoured by Gwyneth Paltrow when she is being photographed for her cookbook or Victoria Beckham backstage at her catwalk shows. This kind of messy bun adds an element of relatability to a glossy image. And it semaphores being busy, which is much more aspirational than being a lady of leisure these days. A packed schedule is also the subtext of a jacket worn shoulder-robe style, as Meghan did last week. Shoulder-robing is a classic Anna Wintour power move, telling the world that (a) you are too busy for sleeves and (b) you possess the kind of properly structured tailoring that sits photogenically on your shoulders and keeps its shape.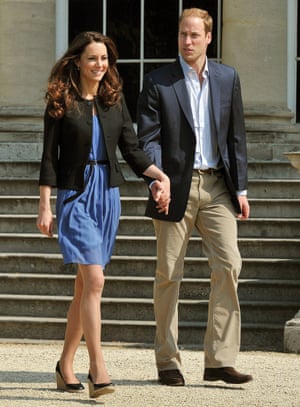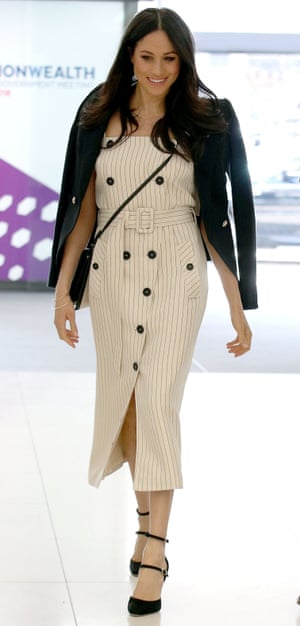 Meghan and her soon-to-be-sister-in-law Kate have modernised royal style in different ways. Kate shook things up by showing that you can look like a fairytale princess while wearing high-street pieces; Meghan is shaking things up by showing that this fairytale doesn't have to mean dressing like a princess. Kate wore a £34.99 Zara dress for her going-away outfit after her wedding, and her love for a comfortable LK Bennett shoe is well evidenced.
The budget-friendly piece is important, and Meghan plays this game too. She wore a dress by Self-Portrait to meet the Queen for the first time, which made her seem super normal, Self-Portrait being everyone's go-to special occasion label. (She wore Self-Portrait again, on Saturday, prompting about half the women who saw the image on Instagram to shout out "I've got that dress!".) And I am quite sure that the £45 Marks & Spencer sweater she wore in January was at least a semi-deliberate ploy to win over the British public. But what stands out most about her look is how functional it is. How non-princessy it is. For her very first official evening engagement with Harry on 1 February, she chose a black Alexander McQueen trouser suit with a crisp white blouse, when she could have chosen a floor-length gown.
In 2014, the actor spoke at the One Young World conference about challenging TV producers over the sexualisation of her character, the lawyer Rachel Zane. "In the show, this season, every script seemed to begin with 'Rachel enters wearing a towel'," she said. "I said, 'No, I'm not doing it any more.'" She has applied a little of the same approach to her public persona since the engagement announcement. Hemlines are longer, clothes are looser, colours more muted in her official wardrobe than they were when she was dressing for the red carpet. Meghan, who has written for Elle magazine about being biracial and is a longstanding ambassador for UN Women, is deliberately playing down the dazzle to ensure that she frames herself in public as a thoughtful and substantial person. Sustainability is a theme in Meghan's wardrobe, with lots of Stella McCartney pieces, and jeans by the ethical Welsh denim label Hiut.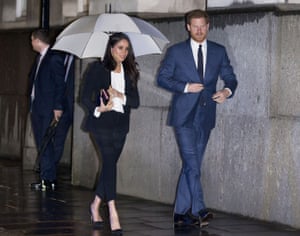 There is a Rorschach test element to the way we view the royals. When Meghan wore a white beret in March, some style observers took it as a tribute to Princess Diana (the same milliner, Stephen Jones, designed both womens' berets) while others took it as a nod to her feminist credentials (berets being a standout accessory of the latest collection from the house of Dior, whose designer Maria Grazia Chiuri has put feminism at the centre of its world). Perhaps the British public falls for each new princess figure who joins the firm because, in the absence of them actually saying very much, we see what we want to see. But Meghan's messy bun makes her perfect for 2018. Or, at least, it looks that way to me.
Source link