07Mar
In Paris, Chanel lights the rocket under a new space race
Space travel stands for many things – the future, bravery, wonder, touching the very edges of what it means to be human – but, on the last day of Paris fashion week, what it represented above all was supremacy. Just as the space race was a way for superpowers to flex their muscles with the world watching, a 35-metre-tall rocket – which launched 10 metres into the air – was Karl Lagerfeld's way of reminding the audience that no one in fashion can match Chanel for blockbuster creative firepower. Lagerfeld remains the master of this universe.
This show was a spectacular that will stand alongside Chanel's most memorable catwalk moments (the fully stocked Chanel own-brand hypermarket; the day Lagerfeld strapped the audience into a reconstruction of the interior of a jumbo jet; the time he shipped in an actual iceberg). The interior of the Grand Palais was dominated by a Chanel-branded rocket, which reached all the way up to the 120-year-old glass ceiling. The audience assumed that the fuel tanks and the engineers in white hard hats were simply there for effect. But, after a cast of models including Kendall Jenner, the Hadid sisters and Lagerfeld's 8-year-old godson, Hudson Kroenig, had showcased the new collection on a utility ramp runway for a front row including Lily Allen and Skepta, a blaze of sparks surrounded the rocket as the base lifted 10 metres into the air. (The middle section rose inside the top part of the rocket, so the very top didn't actually move, but the audience were distracted from this by an abundance of dry ice and Elton John's Rocket Man blaring from the speakers.)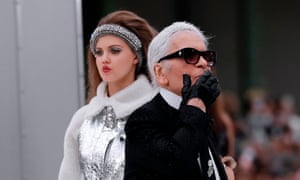 That this show was channelling the geopolitical testosterone that fuelled the space programmes was confirmed by the clothes. This was pure 60s futurism, from the silver go-go boots to the bouffant blow-dries pushed back by wide Alice bands. The show was almost entirely monochrome, flecked with greys and silvers, as if we were watching a live feed on a black-and-white television. The rounded, space-white look of astronaut suits – an aesthetic that still shapes our future, having been largely adopted by Apple (see the AirPods for reference) – was celebrated in silk dresses printed with doll-sized moonwalkers, and in tweed shift dresses whose stiff bateau necklines sat halfway between Jackie Kennedy and the collar of an space suit as revealed when the helmet is removed.
Source link