24Nov
Instaglam: how to get your party make-up to stay put | Fashion
Party season requires a little more dedication to ensure your makeup stays in place. Here's how to get a full-coverage look that won't budge.
Step one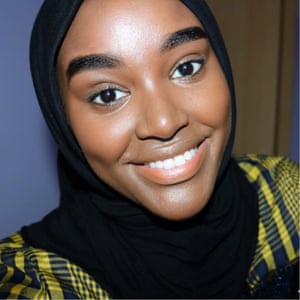 Long-lasting makeup begins with a canvas that is already moisturised and primed. I love using NSPA Nourishing Facial Oil as a moisturiser, as it gives me a dewy finish that is not too greasy. I pair this with the Too Faced Hangover Primer (Debenhams, £27) as it has a cream-like texture that makes the skin feel hydrated. Once your face is prepped and primed, apply foundation evenly to your face and blend with a makeup sponge to give even coverage. I use Lancôme's Teint Idole Ultra Wear 24-Hour Foundation (Debenhams, £31.50), which gives a full-cover matt finish that allows me to skip the process of colour correcting – the foundation does it for me.
Step two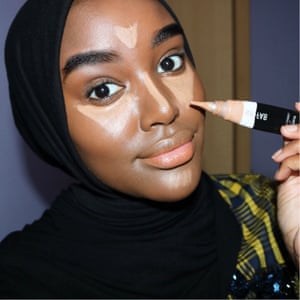 I apply a brighter concealer under my eye in an upside-down triangle and down the centre of my nose as it creates a more "wide-awake" look. I like to use Nip+Fab Makeup Concealer (Superdrug, £8.95) in shade 25 as it has a full but lightweight coverage with a yellow undertone to help brighten and correct discolouration.
Step three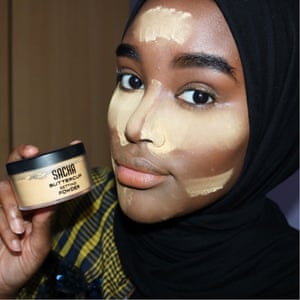 I then set my concealer in place and "bake" for a while – that's an industry term that means keeping loose powder under my eyes for a few minutes, then sweeping it off with a powder brush. My favourite powder for this is the Sacha Cosmetics Buttercup Setting Powder (Superdrug, £19.99) as it has a fine texture and a yellow undertone, which really helps to brighten up underneath the eyes especially. (The picture above shows me before I've brushed it off.)
Step four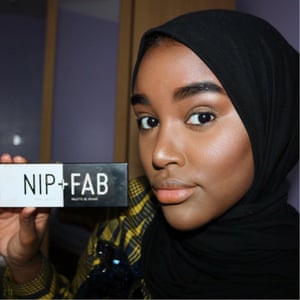 I focus now on defining and sculpting my cheeks – key to a party-glam look. I like to use the Nip+Fab Makeup Travel Palette in medium/dark 2 (Superdrug, £9.95), as it has a contour shade to apply lightly underneath the cheekbones. A blusher adds extra colour on the cheeks, and a shimmery highlight to add glow and extra dimension to the highest points of your cheekbones. I add that highlight shade to the centre of my nose with a small fan brush.
Step five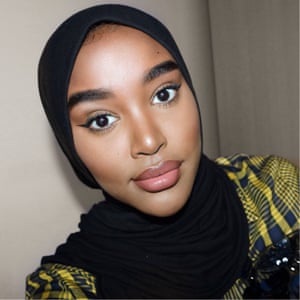 Once your base is right, you can add eye makeup and lipstick to complete your look. For me, that is a simple winged liner and a glossy nude lip. To keep everything in place and ensure my makeup lasts all day and night, I use the Sacha Cosmetics Fix It Setting Spray (Superdrug, £14.99).
This is a bold look, but you can ramp it up or go subtle with the concealer and sculpting stages. Have fun with it – it's not everyday that you will go full glam like this!
•Follow Hani Sidow on Instagram @hanihanss
This article contains affiliate links to products. Our journalism is independent and is never written to promote these products although we may earn a small commission if a reader makes a purchase.
Source link