03Nov
'Pieces that are going to last': Erdem x H&M collection hits stores | Fashion
Leopard-print coats, pyjama sets and sequinned ballgowns are set to be the signifiers of style this party season if the launch of Erdem's collaboration with H&M is anything to go by.
The highly anticipated collection went on sale on Thursday morning. And while there were queues from midnight on Wednesday at H&M shops nationwide, far from the pushing, shoving and even police cars seen at its previous launches, a ticketing system – splitting shoppers into 14 groups of 20 with 10-minute time slots from 9am to 12.30pm – resulted in a civilised atmosphere: queuers could get their wristbands, head off to a nearby coffee shop to warm up, and come back at their allotted time.
Erdem Moralıoğlu, who launched his eponymous label in 2005 and has since then dominated red carpets and fashion awards ceremonies around the world, is a favourite with the Duchess of Cambridge and with unofficial brand ambassadors including Alexa Chung and Keira Knightley.
This collaboration, his first for a high-street brand, is not as cheap as H&M's previous designer collections – prices range from £17.99 for a pair of tights to £229.99 for a full-length lace dress – but is a far cry from his usual price tag which lingers around the £1,600 mark. It also marks Moralıoğlu's first foray into menswear.
"When I found out that he was doing menswear for H&M only, that's what made me say, 'Okay I need to have a piece of that,' because that may be the only time he's ever going to do it and it might be a collectable piece," said Marcio Norborto, 38, a loyal H&M collaboration shopper who thinks this one has raised the bar. "Fast fashion is exciting and nice but I want to buy something that lasts a bit longer.
"When [Erdem] was asked why his pieces were more expensive than other collaborations, he said because he wanted to be true to himself and for it to be the quality he wants. I hope he has stayed true to what he stands for with his brand – that's what I hope I'm buying."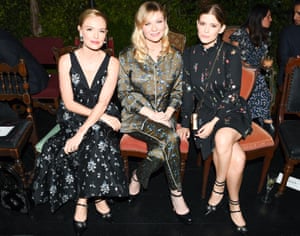 The partnership has also attracted shoppers who might not usually be seen in one of the brand's 4,133 stores, including Gemma Baker, 29, a sustainability consultant. "I'm not normally the type of person who would queue for hours for clothes and, honestly, I try not to shop H&M because of the fast-fashion issues, but I'm making a moral exception.
"I feel like if I buy one of the pieces from this collection it's going to last a long time. It's more expensive than the other H&M designs which tend to be more disposable."
Designer high-street collaborations, which first prompted pavement mania with H&M and Karl Lagerfeld's union in 2004 and were followed up by sell-out edits by Rihanna for River Island and Kate Moss for Topshop, are now a stalwart of the British shopping scene. This year has already seen collaborations between JW Anderson and Uniqlo; Ashish and River Island; and Sophia Webster and Puma.
As ever, accessibility is a big draw for fashion fans on a budget. "It's really amazing that H&M does it as it gives people who can't afford the high-end stuff the opportunity to own a luxury item," said Daniel Bishop, 29, an illustrator – and 3am arriver.
At a preview on Wednesday evening, which was attended by fellow London designer Christopher Kane, Moralıoğlu said he was "happy to see so many people liking the collection and wanting to buy it".
"I pushed H&M really hard for the best possible quality. I am really proud of the finished result," the designer said.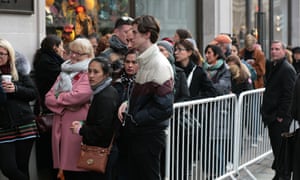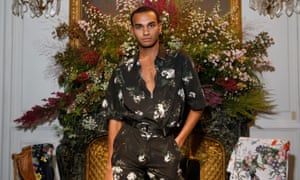 While his collection may not deliver the same Insta-gratifying, season-defining pieces as his H&M predecessors – such as the Maison Margiela duvet coat and that green sequin dress by Balmain which was worn by model and social media sensation Kendall Jenner – Erdem's decision to concentrate on wardrobe classics might just be the secret to his success with the Swedish retailer this season.
"It just appeals to me: [the collaborations are] so cheap, they're so gorgeous and that's why I come here," said Sandra Esqulant, 70, a publican who has kept a close eye on Moralıoğlu's career since serving him at her Whitechapel pub when he was a young student.
Esqulant arrived at the store at 4am, when temperatures were averaging 2C, in the hope of purchasing the hugely popular leopard-print coat, £149.99. "I'll wear it all the time until it wears out. Leopard never goes out of style."
Source link