09Sep
Pierre Bergé: the man who made Saint Laurent a household name | Fashion
When Hedi Slimane dropped the Yves from Yves Saint Laurent after he joined the house as creative director in 2012, a meme-like T-shirt with the phrase "Ain't no Laurent Without Yves" became popular. To put the importance of Pierre Bergé in bite-sized Insta-friendly phrasing, you could change that to "Ain't no Yves Saint Laurent Without Pierre Bergé".
Bergé founded Yves Saint Laurent with the designer in 1961, when the two men were in a relationship. It was Bergé who encouraged Saint Laurent – a designer at Christian Dior when the two met in 1958 – to set up his own house. He later said: "I instantly recognised his genius." While Brian Epstein was busy honing the Beatles into the supergroup of the decade, Bergé worked to do the equivalent with Saint Laurent. The designer became a superstar of the fashion world.
While the Saint Laurent house began as couture, in line with the Paris fashion of the era, Bergé was instrumental in democratising the industry for the younger 60s consumer. In 1966, they launched Rive Gauche, a line of ready-to-wear and cheaper designs that could be bought off the hanger in the store of the same name. While that sounds standard now, the idea was revolutionary in an era where the luxury consumer was used to receiving their clothes after lengthy fittings at a designer's atelier. Rive Gauche proved profitable – boutiques opened in New York and London later in the decade.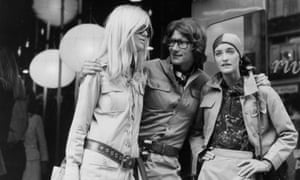 Rive Gauche – named after Paris's bohemian Left Bank – chimed with a new generation of wealthy young it girls that Bergé and Saint Laurent socialised with at Parisian clubs such as Le Sept and, later, at the duo's villa in Marrakech. Bergé was shrewd; he knew the positive power celebrity and glamour could have on the reputation of a fashion house. Betty Catroux, Catherine Deneuve and Loulou de La Falaise were part of the house's coterie of muses, bringing a mix of louche, rockn'roll chic with them.
While Saint Laurent was a timid soul, Bergé made him into a recognisable face too. The designer, with his luxuriant floppy hair and glasses, was the star of his own label. In 1971, he famously appeared naked in the advert for the Pour Homme fragrance. With Bergé as mastermind, Yves Saint Laurent arguably became one of the first bona fide celebrity designers. He became a blue chip pop icon when immortalised in a series of screenprints by Andy Warhol in 1974.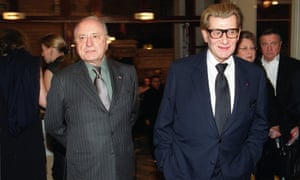 This public-facing role became increasingly difficult for the designer in his later years. While the duo's romantic relationship broke up in the late 70s, they remained a double act behind the brand. Saint Laurent, who suffered from depression, had a series of nervous breakdowns and struggled with substance abuse, increasingly relied on Bergé to be by his side for appearances, to protect him from the scrum of press after fashion shows. This was a role Bergé had taken on right from the outset: at Saint Laurent's debut in 1962, Bergé could be seen standing on a chair directing the crowd to the exit. Ex-Paris Vogue editor Joan Juliet Buck called Bergé a man "whose life it is to organise a scattered genius". Bergé's dogged loyalty made sure the public face remained in place, whatever cracks were showing in private.
This continued after Saint Laurent's death in 2008. Bergé, always opinionated, devoted himself to preserving the designer's legacy. He was famously dismissive of Saint Laurent successors Stefano Pilati and Tom Ford. In an interview in 2012, he said: "I am happy that Stefano Pilati is gone, just as I was happy when Tom Ford left." He approved of Slimane's appointment, and his rebranding of the name – a move that he said was "taking [the brand] into a new era". Anthony Vaccarello, the creative director since last year, had tacit approval: Bergé sat front row at his shows. In a statement released on Friday, Vaccarello said: "It is with a deep emotion that I have learned of Pierre Bergé's passing; he welcomed me with kindness since my first day at Saint Laurent."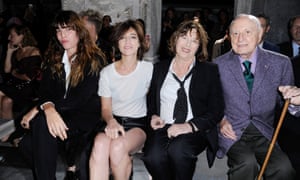 Bergé's energetic determination to make sure his former lover's work remained in the foreground of fashion was there till the last. His most recent project was two museums of Saint Laurent's work – due to open in Paris and Marrakech in October, a huge project with 20,000 pieces on display at the Paris museum. Bergé once said that Saint Laurent "transcended the merely aesthetic in fashion and penetrated social territory". It's thanks to Bergé that the designer was able to do that. It's also thanks to him that we will continue to appreciate it.
Source link