24Dec
Sequins sparkle again as party season turns the fashion clock back to disco | Fashion
As the search for that New Year's Eve outfit begins, the fashionable are looking back to the 1970s. This party season, disco is the reference – with glitter, sequins and shine dominating trends. According to global fashion search platform Lyst, the use of sequins as a keyword went up by 42% from June to November and the disco trend features prominently in January's Vogue. With a new exhibition on Abba, Super Troupers, now open at the Southbank Centre, the inspiration for dancing queens has arrived.
Fashion's love affair with disco-approved sequin is evident looking at the catwalk – in collections from influential brands ranging from Celine to Gucci and Saint Laurent. The name to know is 29-year-old New Yorker in London Michael Halpern. His label, Halpern, founded last year, could be credited with bringing disco back into fashion. His sequin gowns have a 70s feel – he has credited Studio 54 as an inspiration – and have been worn by Amal Clooney and Marion Cotillard. At the Fashion Awards earlier this month, he won the emerging talent award and dressed the model of the year, Adwoa Aboah. Aboah has become something of a poster girl for this look. She starred on the front of December's Vogue, the first from new editor Edward Enninful, which came with a 70s feel. Her glossy lips, blue eyeshadow and turban paid tribute to disco-diva style.
Fiorucci was also relaunched this year. The Italian brand is so associated with disco that the New York store in the late 70s was dubbed "the daytime Studio 54" and it was namechecked in the Sister Sledge classic He's the Greatest Dancer. In 2017, it's worn by Bella Hadid, Hailey Baldwin and Suki Waterhouse, and the Brewer Street store in London has a nightclub planned for the basement. Georgia May Jagger, in the footsteps of her mother Jerry Hall, stars in the advertising campaign.
On the high street, disco dressing is proving popular. Asos reports that silver and sequin are popular search terms, with a sequin mididress one of the bestselling styles of the season. Topshop backs this up, with sequin flares selling out in two weeks. Asos design director Vanessa Spence credits the lift in sales of sequins with a new generation of twentysomethings rediscovering an era. "Disco has been so popular because of the early 80s influence in fashion at the moment," she says. "It is a way of customers getting a taste of that era, but in a modernised way."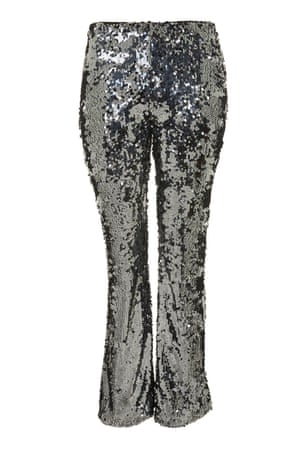 Alice Casely-Hayford, the fashion director of Refinery29, says the trend appeals in part because of social media. Unlike the simplicity of the minimalism that dominated the catwalk for so long, disco style photographs well. "Texture and colour in clothing is key for the Instagram generation," she says.
A new spin is the crucial element to disco being a legitimate fashion trend, rather than a pastiche more appropriate for a fancy-dress party. Natalie Kingham, the buying director of matchesfashion.com, says it's about context. "What's interesting is that people are wearing Halpern's pieces in both a high glamour and more relaxed way," she says. "It's either with platforms, nostalgic of Studio 54, or more casually teaming the sequin pants with a white tee and trainers."
A reassessing of disco in wider culture has helped this trend take hold. Earlier this year, Antonio Lopez 1970: Sex Fashion & Disco, the documentary telling the story of the illustrator who discovered the likes of Jerry Hall and Grace Jones in nightclubs, was required viewing, along with Grace Jones: Bloodlight and Bami, by film-maker Sophie Fiennes. And BBC2 aired a special show on Friday, marking the 40th anniversary of the release of the film Saturday Night Fever. As for music, David Mancuso's pioneering 70s loft party lives on in a quarterly night in east London. Boiler Room, a dance music collective, recently staged an event in homage to the Paradise Garage. And London now has regular disco nights – Savage, which takes place on Saturday night, and Horsemeat Disco on Sunday.
Super Troupers will be this weekend's cultural outing for Instagrammers with outfits from Abba's tours, including those classic capes. There's certainly a rich vein of disco-tinged maximalism to explore. "It was the end of the flower power era and we were bringing in something else where there was extra everything," remembers costume designer Owe Sandstrom. "The first meeting I had with Björn he said to me 'nothing is too much'.'"
Kingham argues that the rise of disco style comes from a need to go to a happy place: "I think rather than buying into safe and timeless pieces, our customers are investing in these looks to lift their spirits and make them feel glamorous and fabulous." This is an idea that Ashish Gupta, the designer behind the London Fashion Week label Ashish, echoes. He has been working with sequins since launching his label in 2001 and believes turbulent times sometimes inspire a hedonistic style of dress. "I think we are in a dark time," he says. "There's the hedonism of escaping from reality and a few hours to dance your troubles away." Casely-Hayford agrees with this. "If you can't express yourself socially or politically, it feels powerful to do that through your wardrobe," she says.
Jonjo Jury, the resident DJ at Savage where the likes of model Edie Campbell and designer Charles Jeffrey can be found on the dancefloor, has noticed that dressing up has increased over the past year. He says blue eyeshadow, like that seen on model Aboah, and Fiorucci's vinyl jeans on boys and girls are popular, as well as "some nudity, which is very Studio 54". He believes what is happening on the dancefloor is making its way into mainstream fashion – with Lucy Fizz, the club's transgender go-go girl, appearing in an advert for Smirnoff this year. "Art directors are definitely looking at the club scene again," he says. "It's like the Antonio Lopez girls – people being fabulous in nightclubs and going into the mainstream."
Jury says the parallels with the disco era perhaps show why it chimes today: "Even if reality is hard, a club is a place where you can look like you're living life to the fullest. That harks back to disco."
Source link