15Nov
Sober and cautious: M&S spring style mirrors mood in the boardroom | Fashion
The Marks & Spencer fashion showcase operates on three levels. It is a sneak peek of the choice pieces which will be on sale next season. It is a litmus test as to which catwalk trends will break out of the high-fashion bubble and make it big on the high street. Lastly – and this is why it is viewed with interest beyond the fashion world – it is a biannual insight into the self-image and strategy of a retail giant. Twice a year the mood in the M&S boardroom – bullish or timid, experimental or nostalgic – is spelt out in hemlines, price points and colour combinations.
Right now that mood is sober, and so the aesthetic is cautious. This could be seen on the long-sleeved, midi-length dresses which dominated the showroom mannequins. A colour-block navy and emerald style will arrive after Christmas, while spring will see a smocked cotton in dusty pink.
The emphasis on dresses with sleeves builds on the success of autumn's Constellation dress, a navy with silver embroidery number that at its peak last month was selling at a rate of one every 90 seconds. "She likes a dress with a sleeve, even in summer," said the retailer's style director, Belinda Earl, at a preview.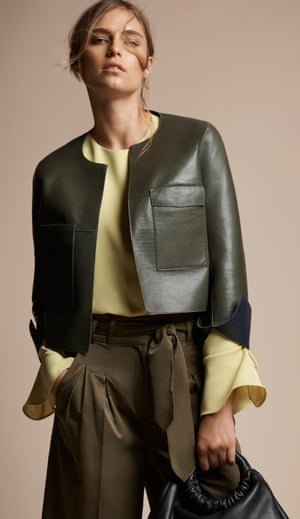 The M&S customer – revered, all-powerful and slightly mystical – is always referred to with the feminine pronoun. The demands of the customer, rather than the whims of fashion week, are the key influences here, as reflected in the invitation extended to 75 handpicked customers who were invited to preview this collection before it was unveiled in the media.
Wearable is what M&S does well. Dresses with sleeves are a sweet spot: modern and on-trend but classic. While the retailer has retreated from attention-grabbing catwalk copies at knockdown prices, it has not retreated into matronliness. An evening edit, on sale on Wednesday, is grown-up partywear: embellished knitwear, a stunning jacquard skirt, along with a printed silk kimono for this season's Nigella-inspired hostess look. Shoes, which have bucked the general downward trend with strong sales figures in recent seasons and have developed a cult following for their combination of comfort and modern styling, are strong once again, with woven leather courts (not too high) and sleek takes on 2018's ubiquitous white kitten-heel ankle boot.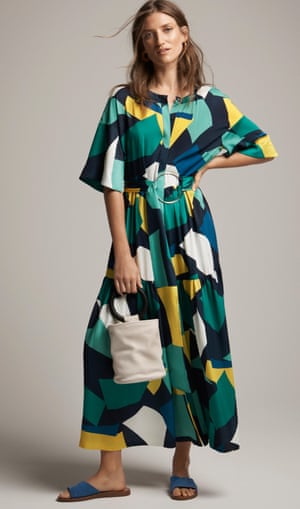 At a preview, the buzzwords the style director returned to were "wearability" and "versality". The realities of the M&S customer base are clearly front of mind – every one-piece swimsuit has tummy control, and new bra technology enables support without a wire up to a G cup.
That these are challenging times for fashion at M&S was reflected in the replacement since last season's event of the previous fashion lead, Jo Jenkins, who recently departed for The White Company, with new boss Jill McDonald, who joined M&S from Halfords and has taken over responsibility for fashion. "It's too early for me to be proclaiming about fashion," McDonald said. "I am listening to the team. And I know that they are listening to the customers."
Source link