26Sep
The unforgiving trend of sheath frocks – fashion archive, 26 Sept 1924 | Fashion
FLEET STREET, THURSDAY
Views of the new fashion at some of the dress shows that are being held this week suggest that one solution to the problem "What shall we do with our boys?" is to have them trained, as in another aspect one might fear that if these fashions prevail the whole of the distributive trades which have to deal with nourishing foods will be up in arms at the menace to their fortunes. The plain fact is that the average girl, let alone the average woman, is not designed to wear the new sheath frocks. She may contrive to look well in them, thanks to the beauty of the material and her own good looks, but she would look infinitely better with, say, an extra six to twelve spare inches, and if she does not get them the aesthetic sense of the public will certainly send out an S.O.S.
Of course there are girls like hazel wands, "tall and straight and slender," who can afford the sheath frock or sheath coat provided they carry themselves like hazel wands and do not adopt the undulating walk of those mannequins who balance their heads back at an angle of 33 degrees from their tripping feet. There is, one feels, an element of unkindness about the dress shows where comfortably proportioned women, young and elderly, sit in rows and gaze at the frocks worn by some sylph far too slim and good for human nature's daily food, and imagine themselves wearing those frocks with just that effect. A sense of tragedy broods above them. The disinterested spectator longs to cry, "Have a care. Trust her not. She is fooling thee."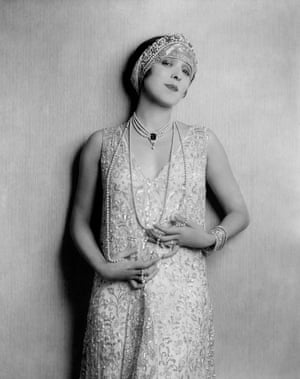 A WAY OF ESCAPE.
There are ways of avoiding the too sheath-like look. One dressmaker may favour side panels. Mme Suzanne, who had a dress show at the Carlton Hotel to-day, has a fancy for slitting the long tunic or overskirt in two or in several places to a depth of twelve to eighteen inches from the hem. This was done very decoratively with an evening frock of cyclamen pink georgette. The skirt was slit to form wide lappets all round the hem and each lappet was fluffy with ostrich feathers and roses. The neck was rounded and an ostrich feather drooped from a gold bandeau to meet the ostrich tip and pink rose placed on one shoulder.
A smart black and white frock was made with a long tight tunic of black satin opening down the front over a dress of white georgette. The wide white sleeves were trimmed with broad bands of black satin half-covered with pointed ends of kingfisher blue velvet, and there were touches of the same colour at the waist. Nearly all the day and evening frocks and costumes were short and sleeves were long and very tight, sometimes ending in wide cuffs. Some of the coat frocks had high collars, some were cut high to the throat and finished with a narrow ruching or inch-high band – this was by no means attractive, – while others had low-cut rounded necks finished with a scarf collar.
One of the most original was of fine black cloth piped with dark orange. The crossover bodice and the very narrow scarf collar were edged with orange. This model was cut rather low at the neck. Another of dark blue had a flared skirt, opening in front and at one side over a black satin skirt. The end of the scarf collar was embroidered in colours. A black afternoon frock, worn by a mannequin whose fair hair was closely shingled, might just as well have been worn by a Bluecoat boy. It was a long tunic shape slashed to show gold tissue underneath. The handsomest of all the evening gowns was of rose pink chiffon velvet. Two straight panels at back and front were edged with a network of gold strewn with tiny roses. The velvet coat worn with this had a collar of ostrich feathers and a deep border of the rose-covered gold network. The skirt of an eau-de-Nil dance frock was trimmed with two rows of long silk tassels in several colours. urther reproduction prohibited without permission.
Source link