12Dec
Time to shine! How to get perfect party eyes this Christmas | Fashion
[ad_1]
Following my recent guide to the perfect party face, I have decided to do something specific on eyes. After all, 'tis season to bring out the glitter. Here is how I get the look in six easy steps.
Step one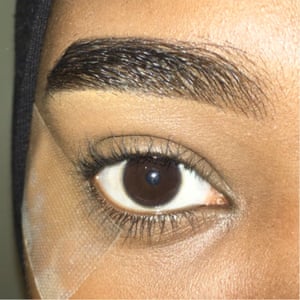 Begin by applying your brow products to give you a fuller and more defined shape. I love Benefit's ka-BROW! gel (Benefit, £20), because it has a waterproof, longlasting finish. I then apply concealer underneath my brows to help define the shape further. I like to bring this concealer down to my eyelids, since it helps to cover discolouration and acts as a base for eyeshadow. I am using the light colour from the Sleek makeup corrector and concealer palette in shade five (Superdrug, £7.99).
Step two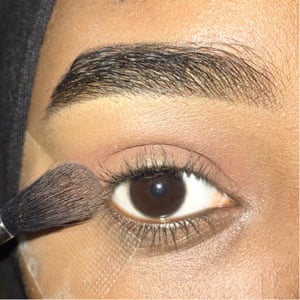 I start my eyeshadow application by adding a warm, neutral tone to my crease, as a transitional colour that will help blend all my eyeshadows together. Using the Huda Beauty Desert Dusk palette (Selfridges, £56), I blend the Amber hue into my crease, then add depth with the Saffron shade.
Step three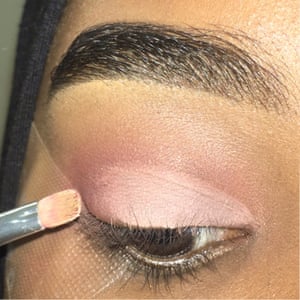 To give myself extra eyelid space, I begin cutting my crease out using the Urban Decay Eden primer (Urban Decay, £17). This also acts a base, which stops my eyeshadow from creasing, and gives me the colour payoff I need.
Step four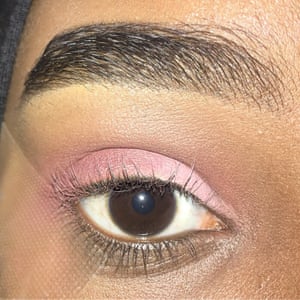 Using the Brandi Vvici Get It On palette (Brandi Vvici, £25), I apply the light-pink shade from the inner corner of my eye to the centre, then deepen the outer V of my eye by blending the deep-plum shade. The matt tones in this palette give a perfect base for any glitter with which you choose to pair it.
Step five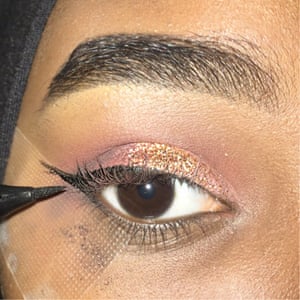 Using the same Brandi Vvici palette, I apply the gold-pressed glitter using my fingertips, pressing on to my eyelids for a light glittery touch. If you would like a more intense look, you can use glitter glue as a base for the glitter. I then complete this step with the Delilah liquid liner (Delilah, £24). I sometimes use tape as a guide when I'm doing a winged-out look – it stops the shadow going on my face and creates a sharp line. Scotch tape is good as it's not too sticky, but most tapes work.
Step six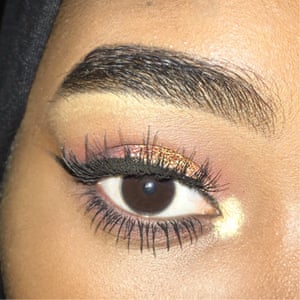 I complete the look by applying the Saffron shade from the Huda Beauty Desert Dusk palette on to my lower lash line and applying mascara to my lashes; I use the Rodial Glamolash skinny mascara (Harvey Nichols, £24). To give me the extra length and volume for this party-eye look, I add my favourite pair of false eyelashes – the Samantha lashes by Huda Beauty (Selfridges, £16).
Customise your look to your comfort. Have fun experimenting and don't be afraid to leave your comfort zones!
•Follow Hani Sidow on Instagram @hanihanss
This article contains affiliate links to products. Our journalism is independent and is never written to promote these products although we may earn a small commission if a reader makes a purchase.
[ad_2]
Source link