09Jan
Vivienne Westwood gets political at London fashion week men's | Fashion
With Vivienne Westwood and Craig Green two of the biggest names on Monday's schedule, the last day of London fashion week men's was guaranteed to be a celebration of unfettered British creativity.
A typical Vivienne Westwood show is reactive and often at odds with the rest of the fashion week, and this collection was no different. First of all, there was no show. Instead viewers watched a two-minute and 45-second film shot largely at night or backstage starring character models, Westwood, an EU flag and some sandbags.
Second, the theme was war. Any war, really, just "don't get killed", which was the message the models repeated with the same energy that Westwood channels into her eco-activism.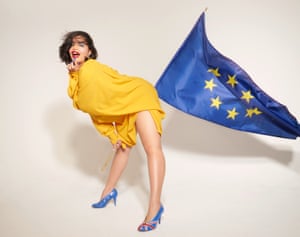 As is often the case with the 76-year-old designer, if you look beyond the slogans there are some beautiful clothes. This collection pairs military history with texture and focuses more on colour than uniform. Westwood's famous princess coat was unisex this time round, in giant camouflage print, tweed and undyed wool.
Belted coats and loose trousers were in traditional army red Melton felt with raw edges, while two-piece suits and draped gowns were dyed Mountbatten pink, a colour introduced by Lord Mountbatten during the second world war. Typically, there was also lots of tartan, energetic twists on camouflage and cartoonish corseting. Westwood promotes unisex styling, though her reasoning is also on the environment – share clothes with the boys – rather than being solely post-gender.
Models with painted faces and in wigs with razor blade earrings and extravagant blusher were a throwback to Leigh Bowery and Taboo. Their look resonated with some of the more talked about shows from the weekend, such as Charles Jeffrey and Rottingdean Bazaar, which gave similar attention to fun, punchy colour, esoteric styling and weird accoutrements.
Westwood talked about war, peace flags, playing cards and the fight. "You all know what I'm up to – I use fashion as a vehicle for activism to stop climate change and mass extinction of life on Earth," she said.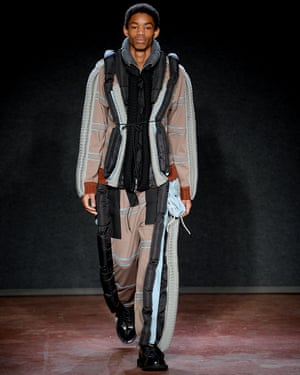 Earlier in the day, London-born Craig Green took over a dark hall in Vauxhall by the London Fire Brigade Museum for his autumn/winter show. A graduate of Central Saint Martins, he launched his label in 2012 to instant acclaim.
Green has been crowned British menswear designer of the year for the past two years and his designs are loved by fashion critics, buyers and much of Hollywood. He was commissioned by the film-maker Ridley Scott to design costumes for Alien: Covenant in 2015, and his creations have been worn by Rihanna, Jay Z and Drake.
The buzz surrounding this collection was palpable. With MI6 headquarters looming ominously nearby and the heavily structured jackets featured in the collection, Green's collection conjured an air of subterfuge. However, he revealed backstage that he had in fact been inspired by childhood imagination: "You know how when you're younger and you don't know anything?."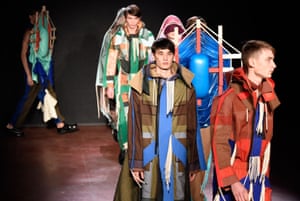 The colourful patchwork robes were designed to look like "human tents", mint green structural pieces like jet-skis, and giant mask-like "shields" akin to "horrid old clocks you find in your grandma's house".
"As a kid you think about the future, when you think you can fly," Green said. As for the latex? "Because it was shiny". Suddenly the models seemed to resemble Buzz Lightyear – and Green, a child who had run amok in a haberdashery.
His love of uniform and early ambitions of being a sculptor are evident in his work and add to his creative spark. When he describes hand-stitching "three colours of nylon organza on to three colours cotton" for the base of the coats, or "hanging tennis balls to the end of bent willow to give the structural pieces a kinetic motion", you know you are dealing with an original mind. If the devil is in the detail, then Green is a man possessed.
Source link